Who need chiavari chairs? The chiavari chair is the most classic wedding chair and we are get married someday, in addition, there are many rental business, they also need chiavari chairs to boost their rental business. All of dominate Furniture customers are serious customer and they may need chiavari chairs for hotels, banquet halls and parties. So it's important to buy chiavari chairs at a good price. But how and where can I buy cheap wholesale chiavari chairs?
We understand that we all need cheap yet durable chairs, that's exactly what dominate Furniture providing. Firstly, the chair from our company is made in China, the labor cost is relatively lower in China compared with western countries. Our country is famous as world factory and exporting chairs and other furniture all over the word every year. Each chiavari chair you sat, it may be come from China. Secondly, the raw materials in China is cheaper. The chiavari chairs are made by wooden, resin, or metal. These materials are all very common in our country. Our land is large and full of trees, and marbles, they are the source of wood and metals.
Resin Chiavari Chair
Our company wholesale chiavari chairs since 2001, and we are manufacturer of resin chiavari chairs. The resin materials chair is the most durable chair and they are one of our hot sale products of wedding chairs. The price of resin chiavari chairs is about $25, and you can get them cheaper if you are order larger amount. We manufacture and wholesale quality resin chiavari chair which win the customer satisfaction all over the word.
To fit the chairs, we also produce various cushions in different style and color. Fixed or movable, fabric or leather, it's all your choice. The color include white, ivory, red, gold, silver. What are you waiting? Just make your guest happy for your wedding!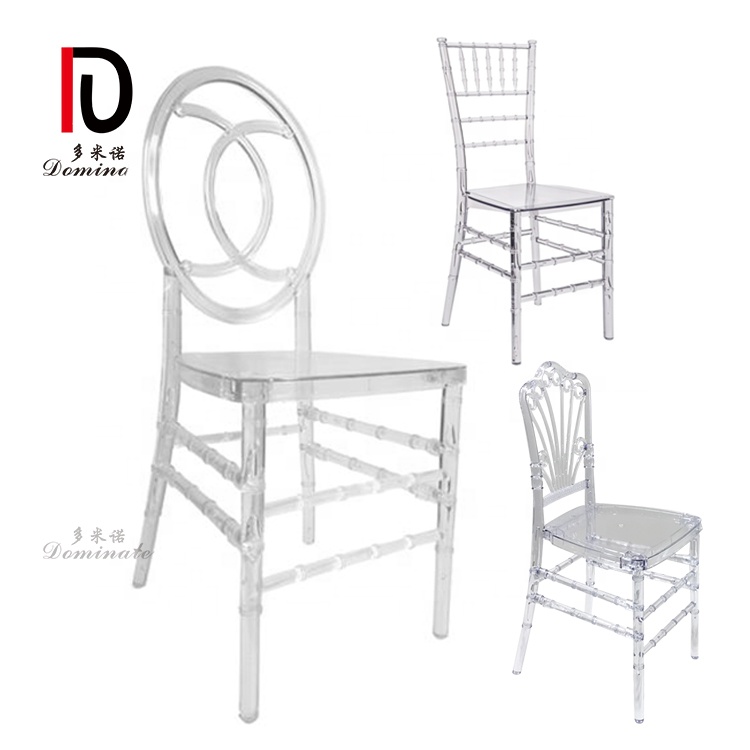 Metal Chiavari Chairs
Metal chiavari chairs are the most cost-effective chiavari chairs. The metal chiavari chairs are including aluminum and iron materials, and aluminum chair is more expensive compared with metal. The aluminum chiavari chairs wholesale price is $16, and the metal one is just $10.
The aluminum chiavari chair is lighter than you expected, meanwhile, since these chiavari chairs are also stackable and space-saving, you can save a lot money on transportation. No matter indoor or outdoor, I am sure have a party with that chair is very joyful.
Dominate Furniture chiavari chair has metal 7~8 support brackets for leg connections, not just 4 or 3 like the others. Each bottom of the legs has well placed plastic plugins to escape scratching or other damage to the floor.
Wood chiavari chairs
Wood chiavari chairs are the most classic chiavari chairs, since the original chiavari chair is made by wood materials. We wholesale wood chiavari chairs at a price of $23.5, amost same price with the resin chiavari chairs. Not only are wood Chiavari chairs a durable and affordable option, people love the look of real wood that can't be replicated with other materials. Wooden Chiavari chairs are a great place to start if you're looking for high-quality at a low price. Wood chiavari chair wholesaled by dominate Furniture Company is made by hardwood and selling worldwide. After year to year, wood chiavari chair of dominate furniture maintains a strong saling, and win reputations from worldwide people
---
Post time: Dec-01-2020